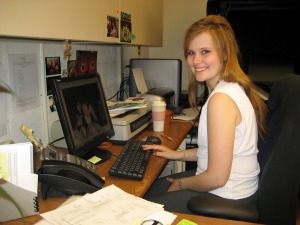 Please join me in welcoming Clare Dussman at the Province Center!
Clare will be working part-time in the archives. She will be be using her creative talents on the upcoming exhibits for the 2012 Provincial Assembly, the Viatorian Youth Congress and the Province Center display case. And if time allows, Clare will also be involved in creating a digital timeline of the Viatorian history for the archives' webpage.
Clare is a senior at the University of Missouri in Columbia majoring in Strategic Communications. She is also a graduate of St. Viator High School in Arlington Heights, IL – Class of 2010. Clare has a strong foundation in journalism, photography and multimedia.
And yes…Clare is the daughter of our very own Faith Dussman, Province Center employee and pre-associate of the Viatorian Community.
Welcome, Clare – we are glad you joined us this summer!