Spring has sprung in Las Vegas, where students at St. Viator Parish School took advantage of the mild weather and planted seeds for their school garden.
Led by farmer, Wendy Wilson — of the urban garden organization, Garden Farms of Nevada — students planted onions, carrots, sunflowers, tomatoes, peppers, red potatoes, peas, spinach, lettuce and radishes.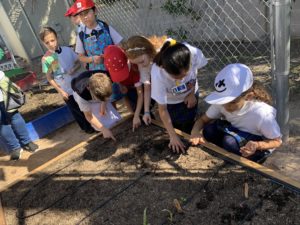 They planted their seeds in raised garden boxes made three years ago by a Girl Scout troop. Members of the Parent Teacher Organization support the project, as does the Viatorian Community, which awarded the school a grant in support of teaching children about sustainable gardening and just where our food comes from.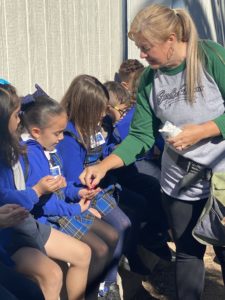 Farmer Wendy comes every Wednesday to work with different grade levels out in the garden. They started planting last month, on Ash Wednesday, after the garden boxes were moved from the Primary Campus to the Main Campus.
"Farmer Wendy and Garden Farms have a big focus in our  local schools," says Principal Tracy Brunelle. "This is her third year with us."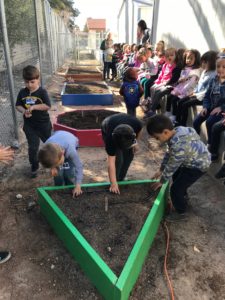 With their seeds planted, students and their teachers embark on a whole curriculum designed around gardening. In religion and science, they learn about taking care of God's creation. In math, they measure the time until harvest, while in computers they map out their different plots, taking care to move them around from last year.
The garden also impacts their reading curriculum — Farmer Wendy reads about the roles of caterpillars, butterflies and bees in pollinating the crops — and in social studies, they learn about vegetables grown in different cultures and about the care of people in general.