Students, faculty and staff poured out of Saint Viator High School last week to watch a solemn procession slowly drive by.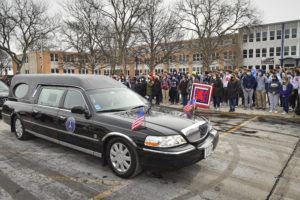 They lined up and down the parking lot, in front of the school, to offer a final farewell for Steve Burks, the former director of buildings and grounds for more than 40 years. He died Jan. 27 after a battle with cancer. He was 65.
"The teachers invited them to come down, it was not required," said Fr. Daniel Lydon, president, who rode in the procession. "But when I saw those students lined on both sides of the parking lot, completely silent and many with their hands on their hearts, it was really powerful."
The procession made its way to Memory Gardens Cemetery, located nearby on Euclid Avenue in Arlington Heights, where Burks was laid to rest, facing the school.
"Everything that you see that is beautiful and working in that school is because of that man," said Fr. Corey Brost, a former president of the school, who spoke briefly at the end before offering a prayer.
"Thank you for coming out here," he added, "and honoring this man who never took any credit for his work publicly."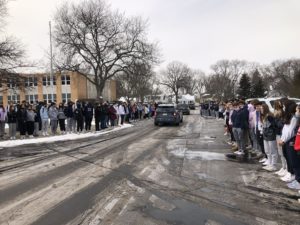 Over his four decades of service, Burks oversaw many capital improvements to the school, including transitioning the building to a coeducational institution in 1987, as well as the building addition and improvements in 2005 and 2014. He employed students every summer in completing building-wide upgrades and was a visible presence throughout the building.
"He was a steadying force," Fr. Lydon added, "whose tireless work allowed us to keep our faculty, staff and students safely in school throughout this pandemic."