For the second straight year, Saint Viator High School served as the host site for mobilizing teens around an issue they feel strongly about: climate change. Young people came out of a concern for the environment, but as Catholic high school students they felt a call to respond to Laudato si': On Care for Our Common Home, the encyclical published in 2015 by Pope Francis.
The Catholic Youth Climate Summit took place Feb. 26 and was organized by by Kayla Jacobs from the Catholic Climate Covenant, with Associate Jason Wilhite and leaders from the Archdiocese of Chicago.
"As a Campus Minister, climate change was the number one issue I heard about from students over these last three years," says Wilhite, who graduated from Saint Viator in 2015 and worked in Campus Ministry from 2019-2022. "It's awesome to be building this platform with youth, for youth, so we as a community can learn about the biggest climate problems and take concrete action to address them."
Since November, Wilhite has met every other week with 12 students from different Catholic high schools — including four from Saint Viator — to plan the summit. The summit started with Mass, before teens worked in breakout sessions focused on engaging in advocacy, school sustainability and school action planning.
Last year's summit at Saint Viator was so successful it led to the forming of a Youth Mobilization Program, administered by the Washington-based Catholic Climate Covenant. Kayla Jacobs, who formerly worked for the Diocese of Joliet and attended last year's summit, is one of its program managers.
According to the CCC website, the Youth Mobilization Program "lifts the voices, actions and leadership of Catholic high school students seeking to care for creation and act on climate change, through the lens of the Catholic faith."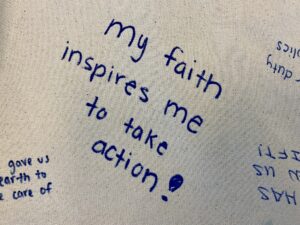 Saint Viator administrators say they are committed to advancing this mission, not only in responding to the care of our common home, but in building young faith leaders.
"Saint Viator and the Viatorians  believe strongly in the message of Laudato Si," says Associate Ann Perez, who serves as Assistant to the President for Mission. "We are always looking for experiences that will inspire and equip our students — and the youth of today — with the skills and tools necessary to make a difference in the world."