Pre-Associate Jason Wilhite already prioritized climate change, heeding the call from Pope Francis to "care for our common home."  But when the United Nations' Intergovernmental Panel for Climate Change (IPCC) released a climate report referring to this moment as "code red for humanity," Jason stepped up his game.
"The report calls on people around the world to respond with solidarity and courageous action," says Jason, who works in Campus Ministry at Saint Viator High School. "The challenge is to find ways to fight climate change on a personal level — and on an institutional level."
Last month, Jason organized a virtual panel discussion that looked at those very issues. The panel included grassroots climate advocates from Kiss the Ground, Jerusalem Farm, and Creighton University's Divestment from fossil fuels initiative. They drew an audience that consisted of Saint Viator High School students, as well as young adults involved with Viatorian Community and Viatorians themselves.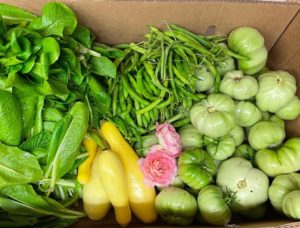 Among the ways group members concluded they could advance climate change was to encourage sustainable gardening, composting and shrinking their carbon footprints.
Turns out, Jason has been doing just that in his volunteer efforts with the men at Viator House of Hospitality. Over the summer, they tended a series of raised garden beds on the property, raising everything from peppers and tomatoes to beans, carrots and leafy greens. At the end of the summer, they calculated they had donated 125 pounds of fresh vegetables to local food pantries. What's more, through their composting efforts, Jason figures they diverted more than 200 pounds of food waste from going into landfills.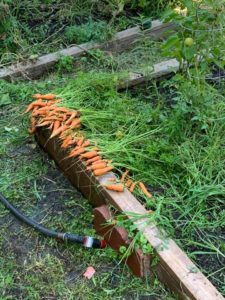 "Composting not only creates natural fertilizer for our gardens," Jason adds, but prevents all that food from decomposing into methane in landfills."
Jason's leadership in the gardening project is drawing notice, not just among the residents and volunteers at Viator House, but throughout the Viatorian Community.
"Thank you, Jason, for coordinating our garden this year," said Fr. Corey Brost, CSV, Executive Director of Viator House. "Under your leadership our participants have raised more than 100 pounds of produce for local families suffering food insecurity."
Of course, this is just the beginning, Jason says: "Our job now is to continue raising up a community of people taking action to fight climate change. I'm hopeful that within the Viatorian Community we will continue to be bold and courageous about this, that we can make Pope Francis' vision for our earth's future real through our schools and parishes."