The venerable St. Viator Church — the Viatorians' first namesake parish — has anchored the Northwest
side of Chicago for 130 years, while its current church has served as a beacon for thousands of families for 90 years.
In recognizing these major milestones, its parishioners organized a vibrant fiesta, appropriately enough, on the feast of St. Viator. The better to showcase the community's strength and diversity, they said.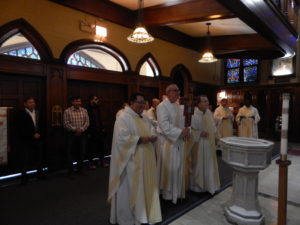 The celebration opened with a bilingual Mass, drawing multiple Viatorians to concelebrate and it was accompanied by music from some of the parish's many cultures.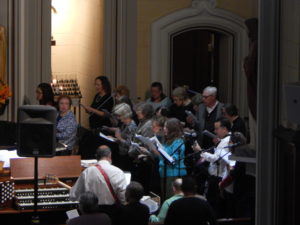 Those on the altar included Fr. Patrick Render, CSV, pastor; Fr. Moses Mesh, CSV, associate pastor, Bishop Christopher Glancy, CSV, a former associate pastor; Fr. Robert Bolser, another former pastor, and Fr. Robert Jean, CSV, of Haiti, who is a current member of the Viatorians' General Council.
Viatorian associates also took part in many ways, in both the Mass and fiesta afterward, including Associates Jackie Dupon, Betty Faraci, Linda Nishi, Hector Obregon-Luna, Susana Tellez and Ivy Vera.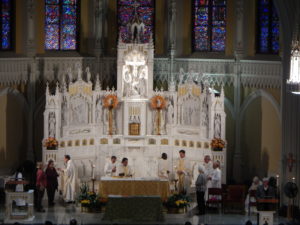 After Mass, parishioners headed to Querbes Hall for a feast that included dishes from more than one dozen countries, as well as ethnic music and dancers.
"Like all birthdays and anniversaries, it is an occasion to give thanks for the past, to anticipate the future and to have a celebration," said Fr. Patrick Render, CSV, pastor. "Our patron, St. Viator, is not well known, but he was chosen by the founding Viatorians to signal
the special mission of that group: to foster the faith education of youth and to build up communities of faith and service, especially to the poor and neglected.
"We give thanks for the thousands of people who have been influenced by that mission over the years," Fr. Render added, "and we reaffirm our hopes that the mission will continue to be of value for future generations."