Families at St. George Parish in Bourbonnais kicked off the Advent Season in a colorful way. They debuted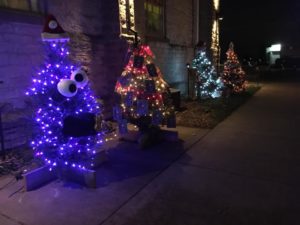 their "Avenue of Trees" on the church campus and they are inviting people from the community to visit.
"Come out to the country, to this small little place called St. George," says Fr. Dan Belanger, CSV, pastor, in a promotional video.
In all, there are 25 live trees displayed across the grounds. Different parish organizations, religious education classes and individual families adopted their own trees, and chose their decorating themes.
Designs range from trees outfitted with angels and saints, to ones that features handmade ornaments, as well as a candy-themed tree filled with lollipops, and even one that looks like the Cookie Monster from Sesame Street.
The trees came to life after the Saturday night Mass on the first weekend of Advent and they will remain on display, from 6-9 p.m. through Dec. 17. As part of the tree lighting, members of the parish's Family Ministry coordinated an evening that included the singing of Christmas carols by the choir, homemade Christmas cookies and even a vote to determine the people's choice for their favorite.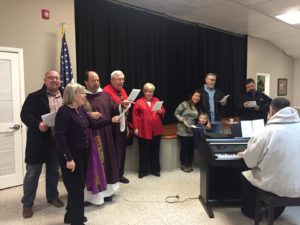 A tree decorated by the St. George Garden Club — outfitted with flowers and gardening equipment — won the popular vote, and Fr. Dan thought that was fitting. After all, it was the garden club's efforts in beautifying the church campus through its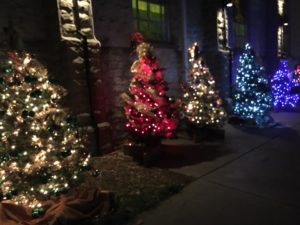 extensive gardens — including a rosary garden — that first drew parishioners to find spirituality, outdoors.
"We're always trying to bring people closer to God," Fr. Dan says, "and find new ways of enhancing their spirituality."