This is a big year for St. George Parish in Bourbonnais, and thanks to its Garden Club members, the church — and its grounds — are ready.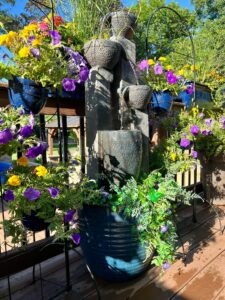 "Our belief is that when you step on the property of St. George, you're entering the church," says Fr. Daniel Belanger, CSV, pastor.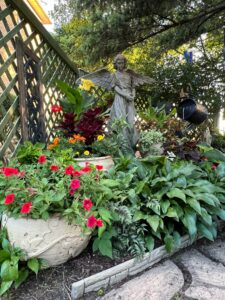 The parish kicked off its 150th anniversary of its first church being built in March, and among its monthly events was serving last week as a site during the Kankakee Kultivators' Garden Walk. Next week, St. George will welcome members of the Viatorian Community at a barbeque to opens its Provincial Assembly, and two weeks later, the parish will host the Viatorian Youth Congress.
Fr. Dan says the 20 Garden Club members had these events in mind when they added two new patios — located behind the rectory — to the parish grounds. The new patios feature comfortable outdoor sectionals as well as dining tables.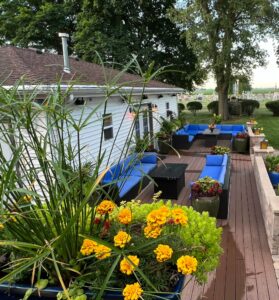 They also added a new "Secret Garden" to go along with the parish's Butterfly Garden, Veterans' Garden and Rosary Garden. Embedded in each are small fountains, religious imagery and as many as 90 decorative pots.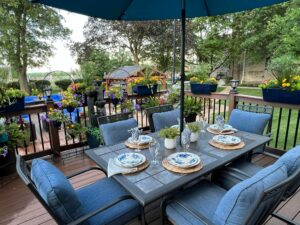 St. George Garden Club formed in 2010 to beautify the parish and add peaceful, contemplative places for parishioners to reflect. The grounds are divided up into 11 "zones" tended to by individual Garden Club members. They are also broken up into islands of color, and many of them include roses, but they also include varieties of perennials, tall grasses, lilies, hostas, ferns and vibrant annuals.
"The beautiful grounds of St. George," Fr. Dan says, "are a place where people can see God through his creation."