Nearly seven years after Viatorians left the former Griffin Sacred Heart High School, their legacy continues — in the form of the St. Viator Chapel.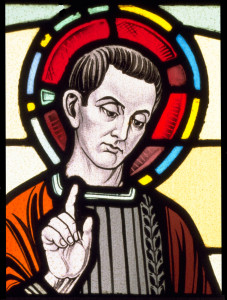 The original school building, located at 1615 W. Washington in Sprinfield, was built by the Springfield Diocese in 1959 and named for Bishop James Griffin, who had invited the Viatorians to teach in the diocese as far back as 1930.
It now is home to the Archdiocese of Springfield's Pastoral Center and its Office for Worship and the Catechumenate. The building serves as a resource center for liturgy, catechesis, music, youth ministry and Christian initiation. Consequently, many liturgies, prayer services and retreats take place in the building — and its chapel.
"Our Spiritual Life Committee thought it would be appropriate if we hung an image of St. Viator in the lobby outside the chapel," says staff member Vicki Walker, "so people could make the connection."
She approached the Viatorian Community for an image of their patron saint, which they quickly sent over for the Spiritual Life Committee to have and frame.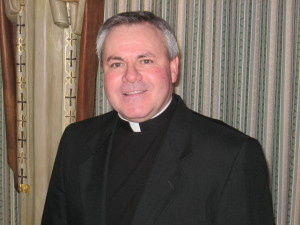 Fr.  Thomas von Behren, CSV, a 1971 Griffin High School graduate, has fond memories of the school — where he first met Viatorians — and its chapel. He returned to teach at the school after college and ultimately entered the religious community in 1978, which he now leads as provincial.
"I think it's fabulous," Fr. von Behren says. "Every time people enter the chapel, they will be reminded of the decades of Viatorian presence in the Springfield Diocese."