Children and families are at the center of parish life at Maternity BVM Parish in Bourbonnais, and at Sunday's family Mass, it showed.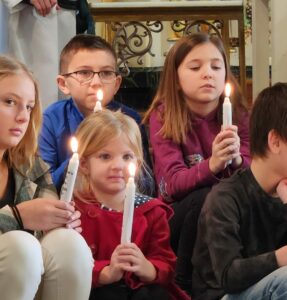 Youngsters filled the sanctuary during the homily, holding candles, as Fr. Jason Nesbit, CSV, Pastor, affirmed them and their place in the church, telling them: "Share your light with the world."
The exchange was just one part of the Mass, but a memorable one. The liturgy also featured middle school students as lectors and singing in the choir. Families also brought in donations for the parish food pantry, which were brought up during the offertory.
Another moment took place when one family brought up the gifts. They were passed a rosary and cross from the previous month's family, for the purposes of praying together for vocations and the parish.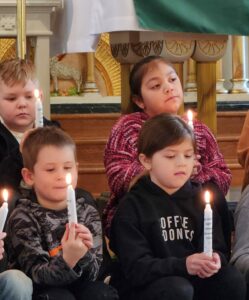 On Feb. 12, the parish's youth Mass will take place, for students in grades 8-12. These young people meet the week before to plan the liturgy with the presider and staff. They discuss the readings, write petitions, and even contribute ideas for the homily. The teens in the choir and those accompanying them on their instruments are always a highlight.
These monthly liturgies serve not only to build up the next generation of faith leaders, but they advance mission of the Viatorian Community: to raise up communities where faith is lived, deepened and celebrated.