The community room in the retirement wing of the Viatorian Province Center came alive Thursday morning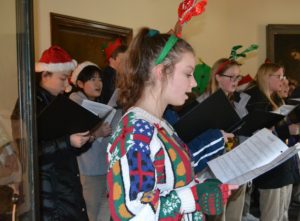 with the sounds of Christmas cheer, when members of Saint Viator High School's concert choir came a caroling.
Dressed in festive sweaters and holiday wear, they sang a variety of Christmas carols and hymns, under the direction of Mr. Dan Walls, choir director.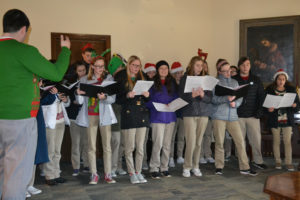 Seated around the choir members were retired Viatorian priests and brothers who had helped to establish the high school, including Fr. James
Michaletz, CSV, who was on the founding faculty and later would serve as principal; Fr. John Milton, CSV, who taught physics at the high school for more than 20 years and helped to build the science department, as well as Br. Don Houde, CSV, a former principal, Fr. Don Fitzsimmons, CSV, a guidance counselor and Br. Dale Barth, CSV, former building and grounds supervisor.
Fr. Mick Egan, CSV, a graduate of Saint Viator High School, and former teacher and president now serving as provincial superior, welcomed the group to the Province Center.
"Thank you for thinking of us and sharing your music," Fr. Egan said. "Every one of these men have given lots of love and energy to Saint Viator High School, and they love seeing students come back."