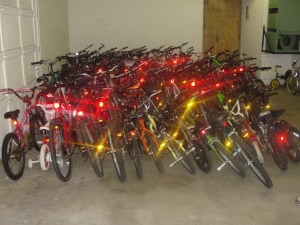 Pay it forward.
Nearly 25 years after Viatorian Associate Francis "Foo" Chamness started repairing discarded bicycles and giving them to needy children, his mission lives on in the form of adult volunteers, partnering with high school teens in the Kankakee and Bourbonnais areas.
They call it, Project Re:Cycle and currently they have nearly 200 bicycles that have been collected by Bradley, Bourbonnais and New Lenox police departments and also from local bike shops, waiting to be tuned up.
Local teens in the area volunteer to repair the bikes, which are stored in a warehouse in Bourbonnais. Working like Santa's elves, they tighten spokes, replace inner tubes and grease chains, all in an effort to restore an unwanted bicycle into a new toy for a waiting child.
Scott Seaton, a member of Knights of Columbus Council 7072 in Bourbonnais, helps to organize the project. The Knights quietly have been funding the bicycle project since the beginning, and Seaton's involvement continues their support.
Some of the restored bicycles go to needy families in the Kankakee and Bourbonnais areas, while left in late November for the seacoast town of Corozal Town in Belize, and St. Francis Xavier Parish, where Viatorians minister to parishioners in 23 villages and elementary schools.