Fr. Thomas von Behren, CSV, provincial thought he was traveling to Bogotá, Colombia last month to celebrate the 50th anniversary of the school the Viatorians founded there, Colegio San Viator.  But his Colombian confreres turned the table on him.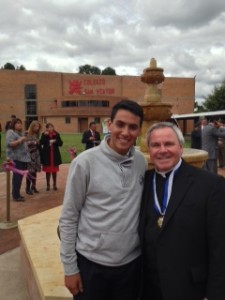 As part of the anniversary celebrations, the Colombian Viatorians unveiled the Rev. Thomas von Behren Plaza, located just outside the new senior high school classrooms that were reconstructed to withstand earthquakes.
Fr. Albeyro Vanegas, rector of the colegio, said the dedication recognizes Fr. von Behren and his commitment to helping the foundation of Colombia reach regional status within the worldwide Viatorian Community.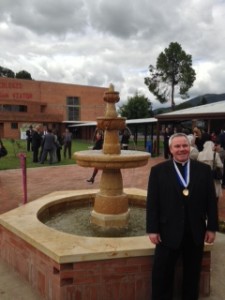 "It came as a complete surprise, but I'm very honored," Fr. von Behren said. "I think it recognizes not only the last eight years as provincial, but also the years I worked closely with them as assistant provincial."
The plaza overlooks athletic fields and is convenient to the upper level classrooms, and will be outfitted with comfortable tables and chairs surrounding the fountain as a place for senior students to gather.