Fr. Louis Querbes, the founder of the Viatorian Community, had a special devotion to Mary while growing up and ministering in France. This exhibit features Our Lady of Fourviere and Our Lady of Grace. Highlighted are photographs of each statue, the churches where they are displayed, other U.S. Viatorian sites where they are dedicated and drawings of Querbes praying before each Lady. Also included are past Viatorian newsletters that are dedicated to the month of Mary. The statue in the center of the exhibit is Our Lady of Fourviere, the lesser known of the two.
Our Lady of Fourviere
Basilica Notre Dame de Fourviere
Lyons, France
Father Querbes often prayed to our Lady of Fourviere as a youth. In accord with the counsel of his teacher, Mr. Guy-Marie Deplace:
'Go sometimes to Fourviere. Speak a little to the Blessed Virgin of me. She is a Mother in whom we ought to place the greatest confidence.'
In later years before sending any of his brothers on distant missions, to the United States or to Canada, Father Querbes always had them place themselves under the protection of Our Lady of Fourviere. (From notes of Fr. Bernard Mulvany, CSV)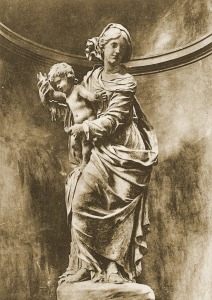 Our Lady of Grace
St. Nizier Church
Lyons, France
It was The Month of Mary, when special devotions to Our Blessed Mother were held each day during the month of May. Querbes would conduct public exercises in honor of the Queen of Heaven.
Before long this tender devotion developed into a parish ceremony, and soon adults, as well as the school children and young seminarians, were gathering in great numbers at the feet of the statue of the Holy Virgin.
Within a short time the practice of the "Month of Mary" had spread to all France. Historians justly attribute to Father Querbes the honor of having introduced France to this highly popular and greatly valued devotion. (From The Mary-Hearted Catechist, 1955)
If you get a chance, stop by to see the exhibit in the Province Center display case near the chapel. It will remain at least through the month of May.