The Viatorian Province Center serves as headquarters of the Province of Chicago and all its regions in this country and in Colombia. But the Viatorian Community also welcomes other faith-sharing groups to use its meeting rooms, chapel and scenic grounds.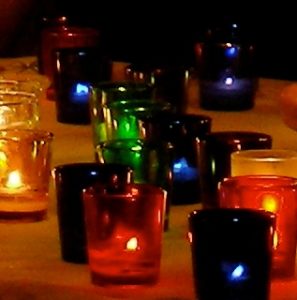 Most recently, members of the group, Health Ministries Association, which is based in Dayton, OH, filmed a Taizé prayer service in the chapel. The service will be shown in October as the closing worship for its members — faith community nurses, chaplains, program managers and faith leaders — during its national conference, which is being held virtually.
This year's conference organizer is Nancy Rago Durbin, a former Saint Viator High School parent who has attended several of the monthly Taizé prayer services at the Province Center. She reached out to members of the Viatorian Community to obtain permission to use the chapel for this special prayer service.
"Our organization includes multiple denominations," Durbin says, "so we were looking for an ecumenical worship service that would be meditative and spiritual.
"Taizé blends those things together beautifully," she added, "with its mix of scripture, chanting and music."
Health Ministries Association strives to engage, educate and empower people of faith to be passionate and effective leaders for creating healthier communities.