Nearly every second Wednesday of the month members of the Viatorian Community hold a Taizé Prayer service that is open to the public. The intimate setting of the Province Center chapel, lit by candles, enhances the experience to pray for peace and justice in the world, and especially for young people.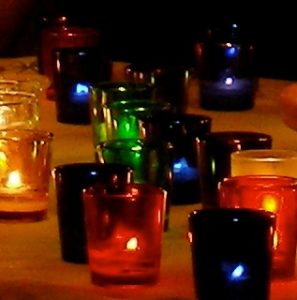 The service has become such a valued tradition among Viatorians and their supporters, that few stopped to realize that it has been going on for 20 years.
"Those that come, without exception, tell me they find a remarkable peace during the evening," says Fr. Corey Brost, CSV, who first introduced the service to the Viatorian Community, back in 1999,
"It's a wonderful way to connect with God," he adds. "The music and the ritual seem to open people up so that they experience God's love and peaceful presence."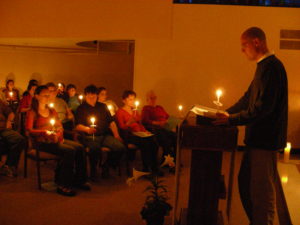 Taizé prayer originated with an ecumenical community of Christians in Taizé, France, who continue to gather daily to chant and meditate together. Its simple chants praise God and plea for God's help.
During Taizé prayer evenings at the Province Center, liturgical musicians help the crowd to repeatedly sing each chant for several minutes — like a mantra. The repetition helps worshipers connect with God, while disconnecting them from life's stress.
Viatorians now offer Taizé prayer services at several of their parishes, including at Maternity BVM in Bourbonnais and at St. Viator Catholic Community in Las Vegas, as well as during its Viatorian Youth Congress, to expose young people to a different form of prayer.