Back in March of this year, Fr. Mick Egan, CSV, President of St. Viator High School in Arlington Heights, IL hosted a trip to France. The ideal country to see in the Querbesian year!
The Querbesian year is a year long celebration (Sep-1-2009 through Aug-31-2010) of the 150th anniversary of Louis Querbes' death. Querbes is the founder of the Viatorian Community in Vourles, France. He died there on September 1, 1859. The Querbesian year comes to an end this month and this 'Pilgrimage to France' exhibit honors the closing.
The tour started in Lyons and Vourles with all the Querbes' sites and then continued to Chenonceaux, Tours, Chartres, Mont-Saint-Michel, Bayeux, Normandy, Caen, Rouen, Versailles and ended in Paris!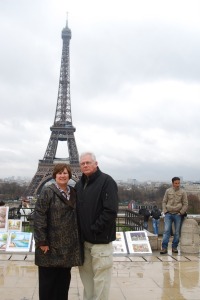 Viatorian Associate Randy Baker and his wife Julie were on this trip and graciously shared their photos for this display. Many thanks to them – they had so many beautiful photos, just wish I could have shown more!
The exhibit should be on display through September at least. Please stop by to see all the towns and sites that the group enjoyed!
Wish I had gone now! 🙁