The new Parish Life Commission at Maternity BVM Church in Bourbonnais came up with a great idea to engage young families in the parish community: an Easter egg hunt, set to take place on Palm Sunday on the church grounds.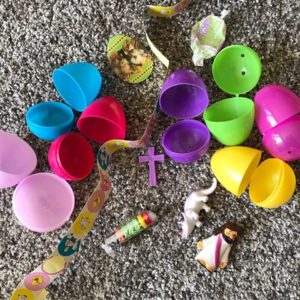 A pandemic and statewide 'stay at home' order prevented that concept, but not the Easter egg hunt. Parishioner Patty Bailey, who formerly served as its Youth Ministry director, came up with Plan B: Bring the Easter egg hunt to the children.
"We had all the eggs ready to go — and then everything changed," says Julie Worby, staff member at the parish.
Bailey recruited a team of volunteers to help. With the blessing of Fr. Jason Nesbit, CSV, pastor, they ultimately hid eggs in the yards of more than 150 houses. Wearing gloves and covertly hiding the goodies behind bushes and in the corners of windows, they dashed off before children detected them.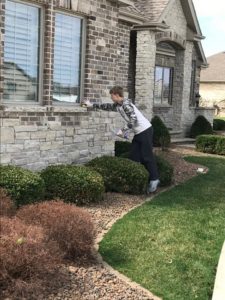 "I can't say thank you enough," one young mother said on the parish's Facebook page, after photos of the caper were posted. "My kids were so very excited! We are truly blessed to have such a great church community."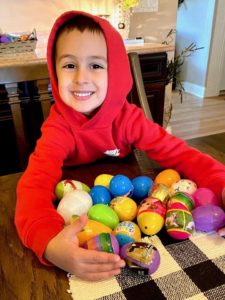 As Youth Ministry director, Bailey helped create Camp MOSH at the parish and supervised teams of volunteers spreading across the community to perform service at the homes of seniors and the homebound. While their destinations were different this time, the Easter egg hunt still embodied one of the core values of the Viatorians: Building up communities of faith.