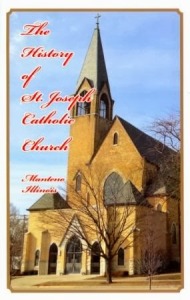 Cover of booklet
The Viatorian Community Archives received a new booklet – The History of St. Joseph Catholic Church, Manteno, Illinois. 1855-2013 – thanks to Cheryl Simanek, President of the Parish Council.
Cheryl contacted the archives this past summer for information on the Viatorians who served at St. Joseph. As a result of that research, we received this beautiful history of the parish.
St. Joseph Church was established as a parish in Oct. 12, 1879, but many years before that visiting missionary priests were responsible for bringing the Catholic faith to Manteno.
The booklet covers the visiting missionary priests, the pastors and associate pastors, the deacons, the religious education directors and coordinators. Also included is the history of Our Lady Academy and the grotto of Our Lady, as well as, the Knights of Columbus. The last section of the booklet lists the men and women of the area who were called to a religious vocation.
Today the parish appears to still be vibrant and growing. In this century, they have a new religious education building with 12 classrooms, a newly renovated front entrance and elevator and a newly designed website. Check them out!
Congratulations to St. Joseph Parish in Manteno for their long history of faith and committment and blessings for many decades to come!
If you are interested in finding out which Viatorians ministered at St. Joseph Church in Manteno or who is from the Manteno area, please stop by the archives to see the booklet or give me a call!
Joan