Associate Susan Surprenant cannot remember a time without Viatorians in her life.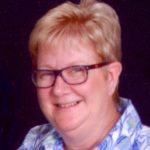 The Kankakee native grew up in St. Rose of Lima Parish, where Viatorians helped in sacramental ministry and her mother was the church secretary. Her grandparents lived across the street from Maternity of the Blessed Virgin Mary Parish, where Viatorians have served for more than 150 years, and she often accompanied them to church.
Viatorians then helped to educate Susan and her sisters at Bishop McNamara High School.
It should come as no surprise that as an adult, Susan and her husband, David, also a Bishop McNamara alum, joined the Viatorian Community as lay associates.
The couple own a dairy farm in Manteno, IL, but they also actively participate in their parish along side of Viatorians, at St. George Church in Bourbonnais.
Susan has worked as a part-time secretary, pastoral associate and as bookkeeper. As a Viatorian associate, she also serves as a Eucharistic minister, lector and choir member at St. George, while also participating at the regional and provincial levels of the Viatorian Community.
"I feel most at home in the choir loft," Susan says.
In 2016, at the Provincial Assembly and surrounded by religious and professed members, Susan and David made their definitive commitments as Viatorian associates.