It was a halftime show worthy of a Disney musical.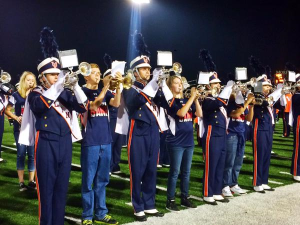 Sure enough, it was a "Disney Spectacular" theme, performed and choreographed by the Marching Illini, during their visit on Friday to Saint Viator High School's home football game.
The visit by the 375-strong Marching Illini, was drummed up by Band Director Vince Genualdi, a 2013 University of Illinois graduate and former drum major. Fr. Corey Brost, CSV, who earned his undergraduate and law degree at Illinois, eagerly supported the idea.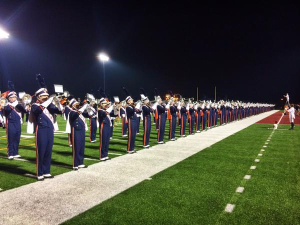 "What a night to be Lion," Fr. Brost exclaimed as the Illini played one of the songs from Disney's hit musical," Lion King."
Saint Viator band members combined with the Illini, as well as middle school musicians from its feeder schools, ramping up the
excitement with more than 500 band members on the field, during the pre-game festivities.
What culminated the evening for many was hearing the Illini playing the historic St. Viator fight song, that not only dates back more than 50 years to when the school opened, but back to 1925, when it was composed by a pair of students at St. Viator College in Bourbonnais. It was called the "Loyalty Song."