Excitement is running high. In a less than two weeks, the 8th annual Viatorian Youth Congress convenes.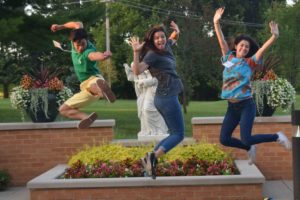 This year, 45 delegates — representing all the places where Viatorians minister — will converge on the Bellarmine Jesuit Retreat House in Barrington, IL for a four-day event that is part retreat, part youth rally and part leadership conference.
Throughout the congress, teens discuss ways to deepen their Catholic faith and learn how they can greater serve the Viatorian mission.
Associate Karen Cutler returns as the VYC director, but in reality college-age young people run the week. They start with Annie Nagle, a graduate of Saint Viator High School, and Patrick Aller, a parishioner at St. Viator Catholic Community in Las Vegas, who are serving as the young adult coordinators of this year's congress.
They head up a group of 12 leaders in all, who represent every region in the Chicago Province, including Arlington Heights/Chicago, Bourbonnais/Kankakee/and Henderson/Las Vegas in Nevada.
During the week, teens will come face to face with nearly two dozen Viatorian associates, brothers and priests who will be involved. Their roles range from presenters of prayer workshops and social justice initiatives, to interview subjects, delegation leaders and pastoral ministers.
Fr. Corey Brost, CSV, returns for his eighth consecutive year. He founded the congress back when he served as vocations director for the Viatorian Community. Initially, he designed it as a way to bring together teens from various Viatorian sites, but increasingly he has seen its impact on young people who take what they learn back to their home schools and parishes.
"The VYC helps our young faith leaders realize that they are part of a worldwide family," Fr. Brost says, "that is changing the world."