On July 7, 2009, I became a lay associate in the Viatorian Community in a special commitment ceremony during the week of the Provincial Assembly. Pat Mahoney, from St. Viator High School, and his wife Sharon also made their commitments along with me.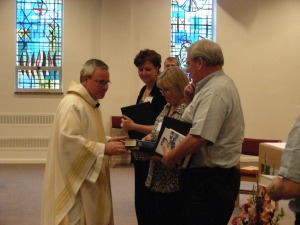 L to R: Fr. Tom von Behren, CSV, Joan Sweeney,
During the past year of pre-association, we were guided with talks and presentations to a fuller understanding of the community, its mission, history, tradition, spirituality and founder Louis Querbes and his charism. Along with this structured experience, we were able to join in various community celebrations, mass and prayer services.
Thanks to all who guided me, including Fr. Tom von Behren, Provincial, Dan Lydon, Director of Association and Vocations and especially to Donna Schwarz, my Association mentor and co-worker at the Province Center.
Joan