Talk about a roller coaster ride of emotions! Leaders with the Life Teen program at St.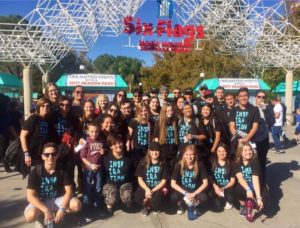 Thomas More Catholic Community in Henderson, NV spent a day recently at Six Flags Magic Mountain in Valencia, CA, but their visit packed more than going on rides.
For more than a dozen years, St. Thomas More teens have attended Inspiration Los Angeles. It's a youth rally held at the theme park and hosted by Life Teen.
The group from St. Thomas More included
adult team leaders, young adult leaders, and junior and senior year young disciples, or approximately 40 in all. They were surrounded by 3,000 teens from across the South West and West Coast.
Their day started with getting the run of the park, before they headed to Mass to attend a vibrant liturgy celebrated by Los Angeles Auxiliary Bishop Joseph Brennan. Motivational speakers and a rock band followed, before the evening concluded with adoration of the Blessed Sacrament.
Steven Dwyer, who leads the Life Teen program at St. Thomas More with his wife, Amanda, said the trip gives young leaders a chance to attend a retreat themselves, and draw inspiration before launching their new year of youth ministry retreats at the parish.
"The bonding that goes on, as result of the trip is pretty unique," Steven says, "of getting to spend all day at the theme park, before going to Mass, hearing great music and great speakers, and having adoration with 3,000 other people."
Organizers with Life Teen — which began at an Arizona parish in 1985 and now includes more than 1,800 parishes in 31 countries — describe the event as a way to kick-start a new year of youth ministry, while proving that faith and fun do fit together.