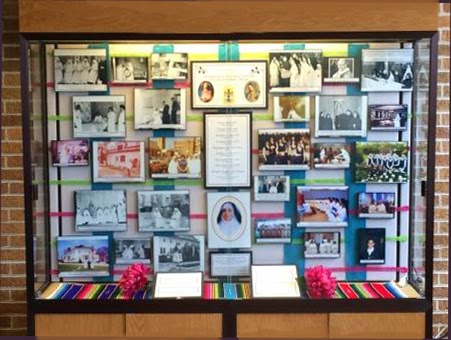 The latest exhibit at the Province Center celebrates the cooperative work of the Missionaries the Sacred Heart of Jesus and Our Lady of Guadalupe (MSCGpe) with the Clerics of St. Viator (CSV) since 1956.
On July 29, 1964, Pope Paul VI granted approval of the congregation founded by Sr. María Amada del Niῆo Jesús Sánchez Muῆoz (1895-1967) in Mexico City. This year, the Sisters are celebrating 50 years since they received Papal approval – so it was time to highlight their presence and good works.
Photographs are on display from the various places that they ministered over the years:
Peoria – Viatorian Residence: 1956-1971
Chicago – Provincial House and Scholasticate: 1957-1961
Kankakee Viatorian Residence: 1960-1974
Evanston – Provincial House: 1961-1972
Washington DC – Seminary : 1961-1971
McHenry – Spiritual Retreat House: 1964-1975
Springfield – Viatorian Residence: 1965-1991
Rock Island – Viatorian Residence: 1967-1971
Arlington Heights – Province Center and previously at the St. Viator High School cafeteria and residence: 1972-Present

Hope you get a chance to see to see the exhibit before it comes down in May!