In his role as Vice President of Viatorian Identity and Mission at Saint Viator High School, Br. John Eustice, CSV, works to instill the Viatorian charism throughout the school. Now, it seems, his role extends beyond the school walls.
This week, Br. John visited with Saint Viator High School alumni attending the University of Dayton.
They met for a casual dinner off campus met first before celebrating Mass together at the chapel in Stuart Hall, one of the residence dorms.
Br. John was accompanied by Mr. Bill Sanford, a University of Dayton graduate. He formerly served as dean of students at Saint Viator and head lacrosse coach. He now serves as director of major gifts and strategic partnerships at Saint Viator.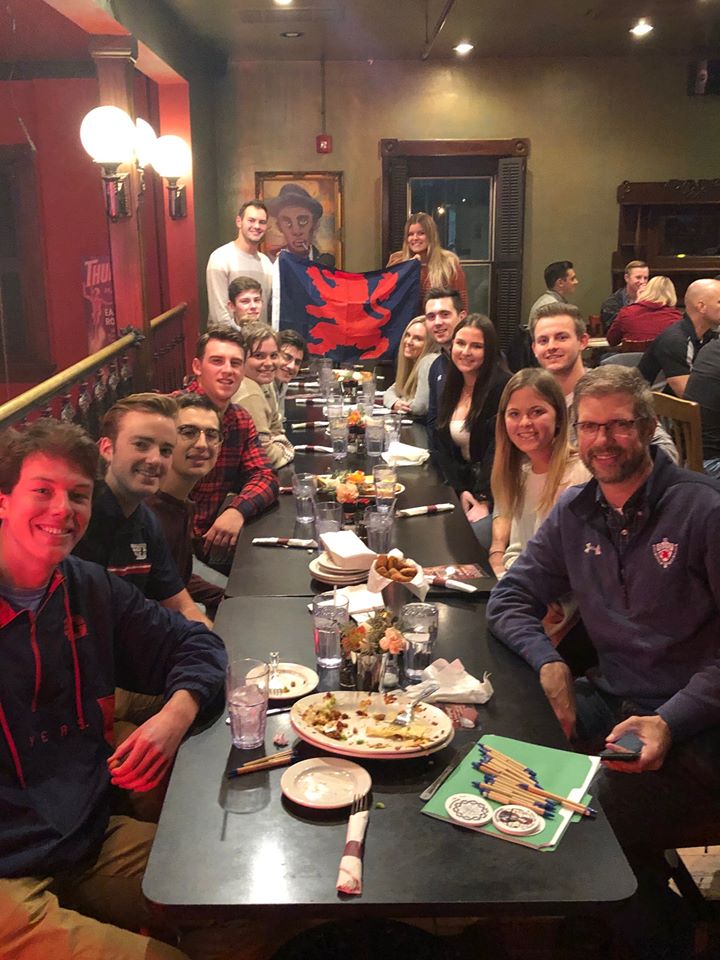 In visiting with alumni at local Midwestern colleges, Br. John carries on a tradition started by Fr. Charles Bolser, CSV, when he served as president of the high school starting in the late 1980s. Fr. Corey Brost, CSV, continued the tradition during his term as president of the high school, from 2013-2016, and Fr. Daniel Hall, CSV, took alumni out every year he came to Dayton for the Air Force Marathon.
"Not only was this a way for me to connect to these young alumni," Br. John said, "it was a way for Saint Viator High School to say, 'You matter and we are still here for you.'
"I told them I am certain that God has an invitation for them," Br. John added, "and we can assist them in learning or understanding the invite."
While, the visits provide a welcome break from the rigor of the college schedule, but more importantly they draw alumni together, to catch up with Viatorians who played important roles in their lives, and all in the spirit of the Viatorian charism.
"It created a familiar space among the alumni and connected them to one another," Br. John said, "seeing that they are not alone in the world of higher education."