Harvest Sunday has become a well-honored tradition in the Bourbonnais/Kankakee region that families know to expect.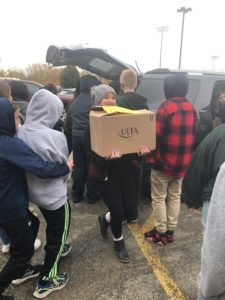 The first Sunday of November, they receive flyers about a food drive for area food pantries, in order to stock shelves before the holidays. One week later, teams of students from all of the Catholic parishes in the area work together to collect the food.
This year was the 30th year for Harvest Sunday, and Bishop McNamara High School was the host site. That's where Associates Ken and Michelle Barrie greeted teens when they arrived with all of the food. They then managed volunteers bringing out barrels and boxes filled with non-perishables to the waiting food pantry trucks.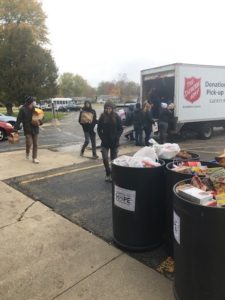 In all, nine pantries were served by this food drive. They included: Maternity BVM Food Pantry, Kankakee Catholic Food Pantry, Salvation Army, Center of Hope, Martinton Food Pantry, St Anne Food Pantry, Harbor House, Lords Lamb Ministry in Pembroke and Agape Community Outreach Mission Food Pantry in Kankakee.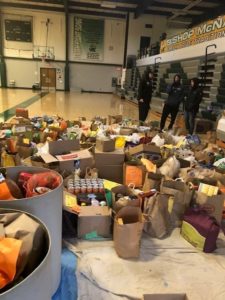 "This year was very successful and all of the pantries were able to stock up for the holidays," Michelle Barrie said. "It's great to bring the local parishes together to serve those in need."