Collectively, they represent 340 years of religious life and ministry to the church. Individually, they represent a depth of faithfulness, sharing their lives with others and serving God's people.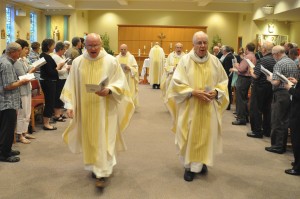 At a jubilee Mass, Fr. Thomas von Behren recognized eight Viatorians celebrating milestones in their ministries. They included: Fr. Arnold Perham, celebrating 65 years of religious life, including nearly 50 years as a teacher of mathematics at Saint Viator High School.
Fr. Charles Bolser, pastor of St. Viator Church in Chicago celebrated 50 years of religious life, along with Br. Dale Barth, Br. Patrick Drohan — who devoted his ministry to serving those at Villa Desiderata Retreat Center in McHenry, IL, and Fr. Erwin Savela.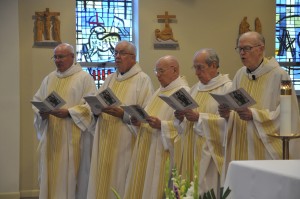 Fathers John Eck and Donald Wehnert — both associate pastors at St. Patrick Church in Kankakee — celebrated 50 years of priesthood, while Fr. Daniel Hall — a teacher, coach and mentor at Saint Viator High School — reached 25 years of priesthood.
"All of us would do well to model the depth of your fidelity," Fr. von Behren said. "We celebrate your faithfulness, and want you to know that we are grateful for your service, day after day."