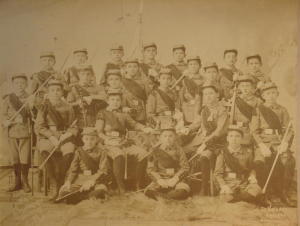 Elizabeth and William Kasak, family genealogists, came across the above photo in their family collection and were trying to identify their relative, John Patrick Barry, in it. The photo had St. Viateur College printed in the right hand bottom corner and Columbian Guards 1894 printed in the left hand bottom corner, so they contacted the Viatorian Archives.
Looking through the collection, I found the same photo (below) that identifies the boys. It was published in the St. Viateur's College Catalogue for 1893-1894. Although labeled in a confusing manner, we believe that Barry is standing in front of the flag between the two taller boys.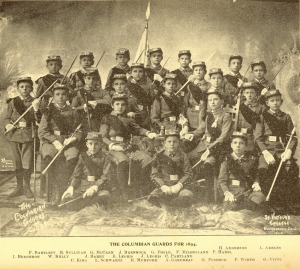 But who are the Columbian Guards anyway? According to an article in the college newspaper/journal dated November 1893, this group was organized October 12, 1892, by Rev. George A. Williams, CSV, for the purpose of introducing sword tactics in the military circles of the college. Shortly after their organization, the boy soldiers began to appear in public celebrations. They were sent to the World's Fair educational exhibit – "it is there the little soldiers gained their most glorious victories."
Thanks, Bill and Betty, for making this little bit of forgotten history known to us now!
Joan