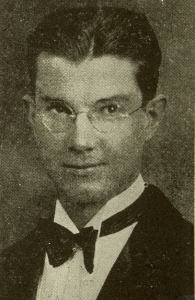 James Burke Monahan, aka Burke, is an alum of St. Viator College (SVC), Bourbonnais, IL. On Thursday, September 16th, Michael Monahan from Yakima, WA came to the Viatorian archives to research his father's college days. Michael has the distinction of being the first out-of-state researcher in the archives, under my watch anyway.
Looking through the SVC catalogs, bulletins and school newspaper called The Viatorian, Michael found numerous articles about his father. Burke Monahan was an intelligent, active and popular student – highly respected by his peers and instructors. He graduated Summa Cum Laude and his valedictory speech was written up in the SVC newspaper.
Michael shared a few facts about Burke's personal life. Michael was told that his dad continued his graduate studies at Catholic University in Washington DC (that is being researched next.) He married Mary Ann Lamb in Washington DC in 1939. Between 1940 and 1955 they had ten children together – Michael being the 2nd oldest. He worked as a manager for John I. Haas, Inc most of his life. Burke moved his family to Yakima, WA in 1953. In 1957, Burke Monahan died in an automobile accident when Michael was a teenager.
Good luck to Michael and the Monahan family as they continue researching their family genealogy. This was a fun learning experience for both Michael and myself!