Saint Viator High School lost another of its long serving faculty members with the death of Mr. Bill Faltinoski. He taught art at the school for 38 years, including 20 as chairman of the Fine Arts Department. He passed away Feb. 18, at the age of 64.
"He was an exceptional art educator, who built our Fine Arts program into what it is today," said Fr. Daniel Lydon, CSV, President. "Through his creativity he brought people together and help build community at Saint Viator High School. He will be missed."
Mr. Faltinoski joined the Saint Viator faculty in 1982. He was just the fourth art teacher at the school in a department expanded by Fr. Raymund Novacek, CSV, in the mid-1970s. Right from the start, Mr. Faltinoski was asked to broaden the art offerings by establishing courses in photography.
He wound up turning a storage room, located across the hall from the school's chapel that contained spare altars, into a dark room for students to develop film from their 35 mm cameras.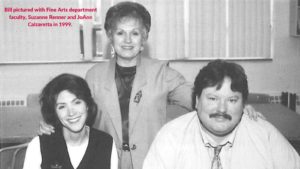 As it turned out, broadening the curriculum to appeal to more students, would become the hallmark of the Fine Arts Department that Mr. Faltinoski eventually led as chairman for 20 years.
Course selections would expand to offer a whole series of classes in art, design and technology, and would ultimately include courses in digital imagery and Adobe Photoshop, and 2-D and 3-D design, using the department's 3-D printers.
A highlight of his long career was seeing the fine arts department receive state-of-the art upgrades as part of its Shaping the Future with Faith Campaign, completed in 2015.
In teaching the visual arts for nearly four decades at Saint Viator High School, Mr. Faltinoski helped the Viatorians advance one of their core pillars which they pledged when the school opened in 1961.
In a booklet from the school's 1961 dedication, it lists nine objectives articulating the school's mission. The ninth pillar moves beyond faith formation and moral values to promote experiences in art, music and drama.