The third and final phase of the Shaping the Future with Faith building campaign at Saint Viator High School gets underway this week, with the demolition of the band and choral rooms, before construction starts in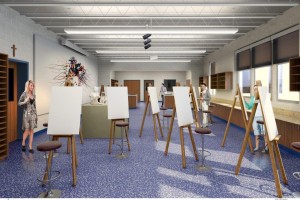 March.
Literally, one day after the school's 49th annual musical — Joseph and the Amazing Technicolor Dreamcoat — ended, work began on building a transformational project, which will double the space for fine arts students.
"This is an incredible time for Saint Viator High School," says Fr. Corey Brost, CSV, president.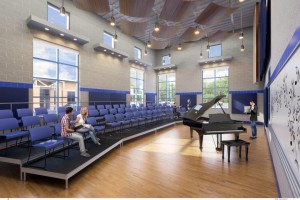 "These new facilities will provide the latest in 3D technology for our visual arts students," Fr. Brost added, "and world class band and choral areas, acoustically designed to enrich the quality of our musical program and student development."
It turns out enriching students' lives with access to the fine arts has been a priority of the Viatorians since the school opened, more than 50 years ago.
In a booklet from the school's 1961 dedication, it lists nine objectives articulating the school's mission. The ninth pillar moves beyond faith formation and moral values to promote experiences in art, music and drama.
The school's latest musical, Joseph, underscores that pillar, with more than 20 percent of the student body involved in its production, between its cast, tech crew involved with set design, lighting and sound; and the orchestra.
Look for the new fine arts facilities, as well as the college-styled dining center, Fr. Louis Querbes Hall, to open in August, in time for the start of the 2015-16 school year.