Cheers broke out today at Cristo Rey St. Viator in North Las Vegas, as the school's first graduating class — who began with the school back in 2019 — started their first day of senior year. Fr. Thomas von Behren, CSV, President, led the applause as seniors walked through the hallway on their way to their first day of work.
"We're so proud of our senior class," school officials said on their Facebook page. "They've come so far since we began our journey here at Cristo Rey St. Viator, and we're excited — and emotional — to see them have the first day of their last year of high school!"
The start of this new school year also ushers in a new era: it realizes the Viatorians' goal of having all four classes (freshmen — seniors) enrolled in the first four years of the school.
The school has grown exponentially since builders broke ground in September, 2018. Cristo Rey St. Viator now serves 265 students — including 81% first generation college students — who work one day at a week at more than 60 corporate work study locations.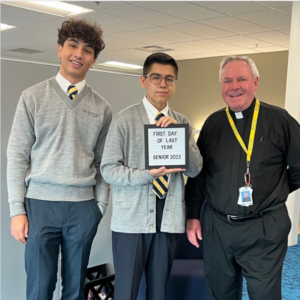 The school has become a dream come true for the Viatorians, since their early sponsorship of Cristo Rey St. Martin College Prep, which opened in 2004. They continue to endorse the Waukegan, IL school and remain committed to the Cristo Rey mission, of educating young people of limited economic means to become men and women of faith, purpose and service.
"Through a rigorous college preparatory curriculum, integrated with a relevant work study experience," Fr. von Behren says, "students graduate ready to succeed in college and in life."