The scaffolds are down and the results are in: Parishioners at St. Viator Catholic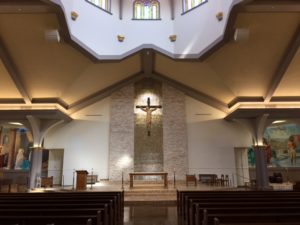 Community in Las Vegas love the new look of their church.
After attending Mass all summer in the school gymnasium, they returned — three weeks early — to find the interior of their church trimmed in shades of taupe, as well as new pews, kneelers, carpeting, organ speakers and sound panels to enhance its acoustics.
The highlight of the project is the iridescent tile work behind crucifix — set off by stacked stonework with bits of gray and gold —which really draws attention to the altar and sanctuary. Bands of gold trim enhances the columns in the church and taupe highlights around the stained glass windows, seemed to make the colorful images, well, pop, parishioners say.
"We wanted to make the church feel warmer — and more welcoming," says Fr. Richard Rinn, CSV, pastor.
Two murals at either side of the altar were commissioned when the church was built, in 1995, and they continue to offer a vibrant addition to the sanctuary.
"It's amazing how the colors of the walls make everything stand out," says Fr. Rinn, who has led the parish since 1999. "I sit in this church now and see things I never saw before."
Fr. Rinn worked with his associate pastor, Fr. Lawrence Lentz, CSV, to design the church's new look.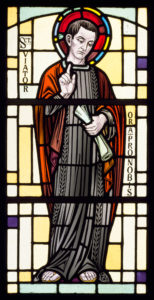 "Given the Viatorians' passion for good liturgy, we felt this was a wonderful excuse for us to collaborate as confreres and friends in this very special undertaking," Fr. Lentz says. "With the help of many others, this is our gift to the St. Viator Catholic Community."
One of the last elements of the renovation was an image of a stained glass window of the parish's patron, St. Viator, positioned on the back wall, visible to worshippers leaving the church.
The image measures 12-feet tall and six-feet wide and was created from an original stained glass panel that hangs in the Viatorian Province Center in Arlington Heights.
"Hanging St. Viator — our patron — in the church," Fr. Rinn adds, "just seems appropriate."