A unique prayer service took place Saturday, timed with the feast of St. Viator. An organ, personally designed to the specifications of Fr. John Palmer, CSV, was dedicated in his name at St. Petronille Church in West suburban Glen Ellyn, where he had helped out on weekends for 33 years.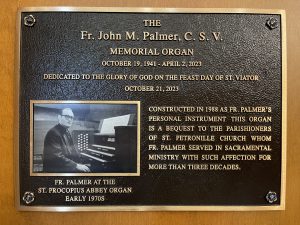 Fr. Palmer died April 2 at the age of 81, however just six months earlier, when he moved to the Province Center from his apartment in Lisle, Fr. Palmer donated his practice organ to the parish where had he served for so long.
Now positioned at the front of the chapel at St. Petronille's — located behind the main church — its mahogany case blends in with the traditional setting and its musical tone can be heard clearly in the intimate sacred space.
The chapel is used for small weddings and memorial Masses, as well as exposition of the Blessed Sacrament, benediction and holy hours. Eric Rasmussen, Director of Sacred Music at the parish, says he intends to also use the organ for chamber concerts in the future.
"The organ is quite happy in the space, filling the chapel with sound," Rasmussen says. "It can even be heard quite clearly in the main body of the church. I think Fr. Palmer would be very pleased."
Fr. Palmer had celebrated his 50th jubilee as a priest in 2021. He was unique in the Viatorian Community since he held multiple degrees in music and organ, and literally performed and
taught around the world. He served as professor of music at Benedictine University in Lisle, where he taught from 1971 until retiring in 2004 as professor emeritus. But he also performed on the organ at such prestigious churches as the Washington National Cathedral, the Basilica of the National Shrine of the Immaculate Conception in Washington D. C., St Patrick's Cathedral in New York and St Paul's Cathedral in London.
Rasmussen himself played the organ during the service, including a piece by Jean Langlais, Fr. Palmer's esteemed teacher in Paris. Rasmussen says he considered Fr. Palmer a mentor and was humbled to play his personal instrument for such a momentous occasion.
"While I was playing, I felt him there with me," Rasmussen said. "He was the most incredible man and I and many many others miss him terribly.  I hope we honored him as a musician and as a priest."
Fr. Palmer's funeral in April drew many former students, colleagues and parishioners from St. Petronille's, just as the dedication did on Saturday, filling the chapel and underscoring this Viatorian's contribution to this faith community.
"Fr. Palmer was an extraordinary musician and a man of deep faith," says Fr. Mark Francis, CSV, Provincial. "He was also an exceptional teacher whose students remember and appreciate him year after studying with him."