On Sunday, Fr. Dan Hall was among the more than 25,000 runners who took part in the San Francisco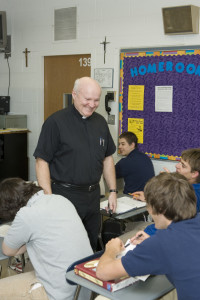 Marathon, finishing 19th of the 60 in his age group. It was his fourth time running it — and 44th marathon overall.
The scenic course woves runners through such iconic spots as Fisherman's Wharf, the Golden Gate Bridge, Haight Street and Mission Bay. San Francisco's notorious hills made the marathon especially challenging, but that's what Fr. Hall wanted.
"I like to do that one first," Fr. Hall says. "It makes the other ones seem easier."
In October, Fr. Hall, who served two tours of duty in Vietnam in the Army's special services and spent seven years in the Marines as a chaplain, will do the Marine Corps Marathon. It starts in Arlington, VA and takes runners between Arlington National Cemetery and the Pentagon, and winds up at the Marine Corps Memorial.
Fr. Hall admits it has become increasingly harder to find time for training. He teaches a full load of courses in the social studies department at Saint Viator High School, including sections of U.S. history, global economics and world geography, and this fall he returns to coach special teams for the varsity football team.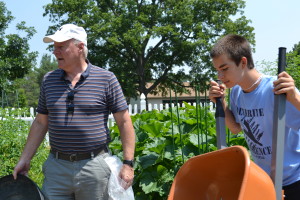 This summer, Fr. Hall oversees the Viatorian garden, which he helped to establish last year, in an effort to feed the hungry. He leads a team of gardeners — from Viatorian staff members and lay associates, to Saint Viator High School students — who tend individual beds filled with vegetable crops.
"We are looking forward to a very successful growing — and giving — summer," Fr. Hall adds. "It's all about feeding the hungry."