Fr. Dan Hall, CSV, just took one step closer to his goal.
The military veteran, who served two tours of duty in Vietnam in the Army's special services and spent seven years in the Marines as a chaplain, has set out to complete 50 marathons — after turning 50 years old.
Running the Bank of America Chicago Marathon was his 47th — and he has two more scheduled this year.
"It gets harder and harder each year. I always aim to finish before sunset," says Fr. Hall, who celebrated 33 years of religious life this year and 27 as a priest.
When he's not training, Fr. Hall teaches U.S. history, global economics and contemporary world issues at Saint Viator High School, before heading out to football practice, where he is a special teams coach.
In two weeks, on Oct. 25, Fr. Hall will run one of his favorite races, the Marine Corps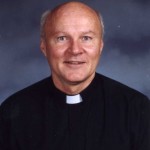 Marathon. It starts in Arlington, VA and takes runners between Arlington National Cemetery and the Pentagon, and winds up at the Marine Corps Memorial.
He winds up this year's campaign on Nov. 8, when he runs the Madison Marathon, which starts and finishes at Capitol Square in downtown Madison.
For the Chicago Marathon, Fr. Hall joined the 120 members of Team Salute, which is based in Arlington Heights and raised more than $120,000 for injured and returning military personnel.