For the second straight year, Saint Viator High School's entire math team earned a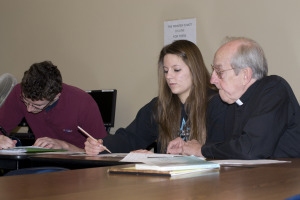 berth to the state contest,  hosted by the Illinois Council of Teachers of Mathematics, based on their individual and team performances at regionals.
Overall, the team finished 12th in their Class 2 A division, but it was the two oralists — juniors Orest Byshkosh and Patrick Harris — who earned the school's best placement of the weekend, a third place in the oral competition.
Little did the rest of the state field know of the secret weapon working behind the scenes: Fr. Arnold Perham, CSV, a lifelong mathematician and published scholar.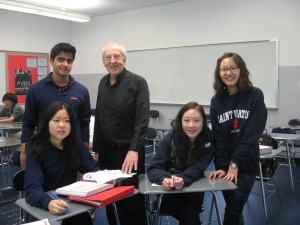 "They worked really hard," Fr. Perham said. "I'm really happy for them."
Throughout the school year, Fr. Perham has been working with the two oralists in preparation for the state contest.
The oral competition is considered one of the most challenging, since it covers topics outside the standard high school curriculum.
Fr. Perham began teaching mathematics at Saint Viator High School in 1962, one year after it opened and more than 50 years later, he continues to meet with students every day.
While he officially retired in 2002, Fr. Perham continues to come to school every day, helping students in the Math Club, Math Team, Querbes Scholars program and in the school's math lab.
"When I see Fr. Perham come faithfully every morning, it makes me think how much he reflects our mission — both academically and spiritually," says Eileen Manno, Saint Viator High School principal.
Fr. Corey Brost, CSV, former president of the high school agrees, adding: "You won't find a kinder, wiser, more intelligent person in this building. He shines God's bright light, daily."