Viatorians have been ministering at St. Viator Parish in Chicago since 1888, but its present church dates back to 1927, when the magnificent building began construction.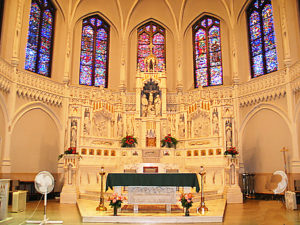 In light of its 90th anniversary, Fr. Patrick Render, CSV, pastor, has asked parishioners, alumni and supporters of the longtime parish to consider donating to its capital campaign, which aims to preserve the beauty of the church and make needed physical improvements.
"Visitors still comment on the beauty of the church, especially the sanctuary and the windows," Fr. Render says.
Already, windows on three sides of the church have been repaired and re-glazed in recent years, but those on the west side have yet to be done. Additionally, pews need to refinished, walkways repaired and landscaping refurbished.
"The history of the church and school has been a gift from the wider community and will continue to be a gift for future communities," Fr. Render adds.
Fr. Render describes the milestone anniversary as an exciting time in the parish's history, and by preserving the venerable church building, it will ensure that Viatorian values continue.
In 1988, at the celebration of the 100th anniversary of the establishment of the parish, its leaders described St. Viator's meaning to the community this way: "The true legacy left behind by her founders transcends the majestic beauty of the church.
"It is the spiritual unity of her people which keeps her thriving, and remains the cornerstone of all her endeavors. Through this, may current Viatorians realize the value of their heritage, and assist to pass it forward to future generations."
Learn more about this vibrant parish and ways to help advance this new appeal, here.