Nearly every Provincial Assembly includes the commitments or re-commitments of Viatorian associates, yet the ones made by five associates back in 1999 were groundbreaking.
Associates Mary Jane Bucher, Mary Finks, Marilyn Mulcahy, John Ohlendorf and Reisha Raymond made their commitments in the chapel at Saint Viator High School. All five were from the Bourbonnais/Kankakee region and they arrived at that point after working in parish ministry with Viatorians and after discernment as pre-associates.
Prior to that year, the Viatorian Community had consisted of religious brothers and priests. With associates making their first commitments, the Viatorian Community expanded to include lay and religious working together to advance the Viatorian charism.
Viatorians had debated the question of associates for years, but its roots date back 50 years, to the post-Vatican II years and its wide-sweeping changes that resulted in the church and religious communities.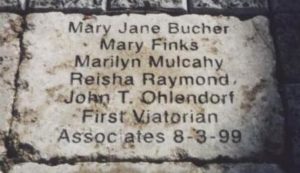 In 1984, Viatorians in the Chicago Province formally began to explore the possibility, and in 1999 the first associates joined in the Viatorian mission, spirituality and community life.
Viatorians haven't looked back and now regard associates as equal members of the community. Currently, there are 85 Viatorian associates and another nine pre-associates in formation.
However, a stone etched with the names of the first five remains embedded in the path at the historic grotto on the grounds of Maternity BVM Parish in Bourbonnais, the first place where Viatorians arrived in 1865.
Updated in August, 2021