It's a new year – 2010 – a cold and snowy winter so far! And it's still the Querbesian Year – the year to honor the 150th anniversary of our founder's death. To keep that in our hearts and minds, the new exhibit in the Province Center honors Fr. Louis Querbes, the founder of the Viatorian Community, through the illustrations created by our confrere Fr. Wilfrid Corbeil, CSV, from the former Province of Joliette, Canada.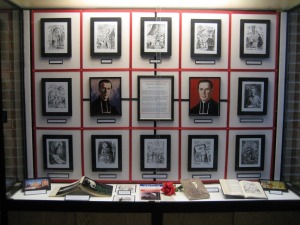 Father Wilfrid Corbeil, CSV, was an educator, painter, architect, decorator, musician, cultural leader, great humanitarian and facilitator of the arts for the Joliette region. He is described as an inspired, talented, determined, tireless worker with a passion for beauty.
Corbeil's illustrations on display were published in the book 'Le Pere Louis Querbes' written by Michel Sudres, CSV, in 1952. These black and white sketches depict various events in the life of Querbes as described in the book and envisioned by Corbeil.
Corbeil also painted portraits of Louis Querbes that are still used today in brochures, prayer cards and other publications throughout the international community, two of which are included in the display.
Also included in the display is the actual book that these illustrations were originally published in, Corbeil's photo, other Querbes drawings not in the book, a postcard with a painting of a church by Corbeil, a postcard with a photo of the former Viatorian Joliette Province Center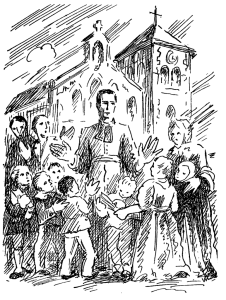 and Novitiate designed by Corbeil and a book about the Museum of Art in Joliette in which Corbeil designed the building and was curator of the collection. Just a few extra things to broaden the scope of this man's talent!
Come and see the exhibit soon, you'll want to look at the details of each drawing. It should be on display until the end of March 2010.