When Fr. Corey Brost, CSV, and members of the Children of Abraham Coalition conceived the idea of a Peace Camp for middle schoolers, back in 2018, they hoped to promote interfaith understanding and give students the tools to fight hate-based bigotry.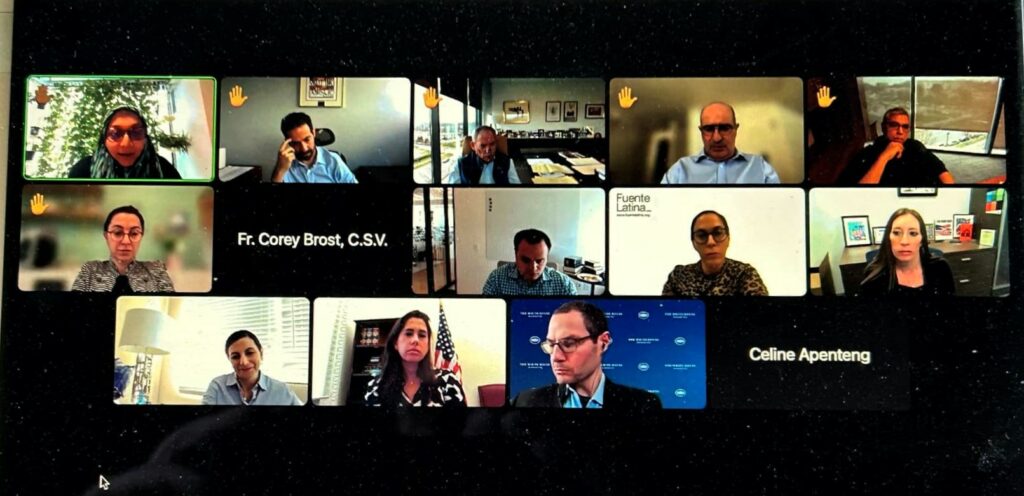 What they didn't know was that they would be shaping confident, faith-based leaders, whose activism would draw the ear, even of staffers in the White House.
That was the case this week, when Fr. Corey and Stephen Hart, Rabbi Emeritus with Temple Chai in Northwest suburban Long Grove, represented Children of Abraham in a Zoom call with the White House. They were among 20 other groups from around the nation, offering strategies to stop antisemitism.
"Why," Fr. Crorey asks. "Because a Peace Camp leader on an advocacy trip to DC for young Jewish leaders, praised Peace Camp when meeting with White House staffers."
President Biden has made rooting out antisemitism an urgent priority of his administration. A new report released by the Anti-Defamation League reveals antisemitic incidents increased 36% in 2022, which is the highest level recorded since 1979. The report also comes as the FBI and human rights groups warn about the growing number of hate crimes in the U.S.
This week's call came six weeks after the administration formed an Interagency Group to Counter Antisemitism, Islamophobia, and Related Forms of Discrimination and Bias. The working group began hosting listening sessions in February with external stakeholders and experts to help inform the national strategy to counter antisemitism.
From the start, its goal was to hear directly from a wide range of stakeholders, including the Jewish community, civil rights and faith leaders, civil society, the private sector and others on how to counter antisemitism as a threat both to the Jewish community and all Americans. This week, the Children of Abraham was one of those stakeholders.
"We hope to continue working with the administration on how to train young people to resist faith-based hate," Fr. Corey said after the meeting.
Fighting faith-based hate crimes has driven Fr. Corey ever since he formed the Children of Abraham Coalition. Its stated goal was to promote interfaith peace, in response to the growing number of hate-based events in the wake of 9/11. He and his teenage members planned events that promoted interfaith dialogue between people of Christian, Jewish and Muslim faith traditions.
COAC now includes adults and teens — of all faiths — on its board, but young people continue to drive its events, especially planning and leading its summer peace camps. This latest chance to help the Biden administration counter antisemitism, was a direct result of those peace camps.