The dream to open a new Viatorian school — in the Cristo Rey model — just took one giant step forward.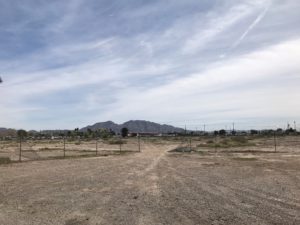 Just last week, the Viatorians closed on land in North Las Vegas, which will be the site of their new school.
"We are very excited," says Fr. Thomas von Behren, CSV, president of Cristo Rey St. Viator Las Vegas College Prep. "The Viatorians are the proud owners of dirt, sand and dust on Las Vegas Boulevard in North Las Vegas."
Don't expect the land to be vacant for long. Fr. von Behren and staff have a rendering of the new school and have already met with vendors to begin picking out materials for classrooms, science labs, and the chapel.
Their leadership team is impressive. Led by Fr. von Behren, a former president of Bishop Gorman and Saint Viator high schools, and most recently provincial superior of the Viatorians; he is joined by Melissa McKinley, who serves as corporate work study program coordinator. In that role, she is recruiting business partners willing to hire students in entry level jobs, which they will work at one day a week, allowing them to pay for their education. Melissa draws from her extensive experience in human resources, recruitment and marketing working for Las Vegas companies. She also is a graduate of Bishop Gorman High School.
Br. Carlos Floréz, CSV, serves as student admissions officer, a role he also held at Cristo Rey St. Martin College Prep in Waukegan, IL. The Viatorians have been a religious sponsor since its opening in 2004.
Associate Dan Schwarz serves as director of communications and community outreach. He brings a wealth of experience in broadcast television and his most recent role with the Las Vegas Area Chamber of Commerce.
After a six-month search, the school also hired a principal. Lisa Campbell is a former principal of Fertitta Middle School in Las Vegas and before that she taught science in the Clark County School System.
Finally, Francisco Aguilar serves as chairman of the board.  Aguilar served as special counsel to the chancellor of the Nevada System of Higher Education, and as a lawyer for the parent company of the Las Vegas NBC affiliate, KSNV Channel 3 and 16 other NBC affiliates.

Through it all, they remain committed to the school's mission, of educating young people of limited economic means to become men and women of faith, purpose and service.
"Through a rigorous college preparatory curriculum, integrated with a relevant work study experience," Fr. von Behren says, "students graduate ready to succeed in college and in life."