Part of the mission of Cristo Rey St. Viator in North Las Vegas is to educate students to become men and women of faith, purpose — and service.
Service is a key element of all Viatorian schools and at Cristo Rey St. Viator, students demonstrated that commitment Saturday when they hosted another pop-up food distribution on the school's campus.
For the last year, CRSV has partnered with the nonprofit organization, Just One Project, Southern Nevada's largest mobile food pantry. There are no requirements in order to pick up food, and patrons do not have to be enrolled in the school to participate.
CRSV is one of 44 locations who all sponsor the mobile market on the same Saturday each month. By working together, these schools and other organizations aim to remove barriers and increase access to groceries. Their efforts are making a difference. Each month, these pop-up food distributions serve more than 20,000 people.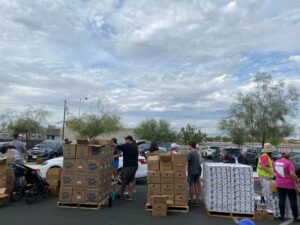 These mobile markets also galvanize volunteers. Saturday's distribution drew several Viatorian associates and their children to participate, including Rosy and Paul Hartz, Cheryl Schwarz and Deborah and Romeo Perez. Deborah Perez served in her official capacity as Director of the Corporate Work Study Program at CRSV.
Working together, they counted food items, including non-perishable items and fresh fruits and vegetables, before loading them into boxes and transporting them into individual cars as they pulled up through the line.
Just One Project was started in 2014 by Brooke Neubauer and is one of the fastest growing nonprofit organizations in Southern Nevada. Viatorians and Cristo Rey St. Viator students alike endorse Just One Project's vision of "mobilizing volunteers to build stronger and healthier communities."