Less than two years after starting construction on Cristo Rey St. Viator in North Las Vegas, the school's second building phase is complete.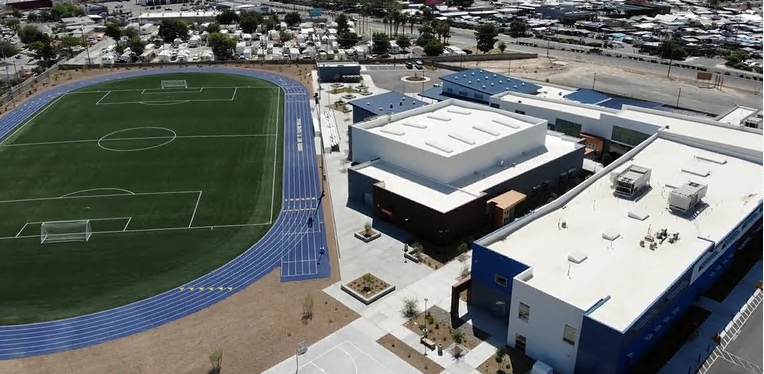 School administrators announced this week that they had reached the end of their construction project for the school.
"We are very fortunate to have had the support and encouragement of the Cristo Rey St. Viator community, allowing us to complete Phase I and II in a two-year period," says Fr. Thomas von Behren, CSV, President.
Cristo Rey St. Viator had a successful first year, before COVID-19 forced the school to close and continue through e-learning. Currently, administrators are enrolling freshmen and sophomores for its anticipated re-opening in August.
Phase two of construction completes the gymnasium, which includes, the music/theater room, green room, dance room, weight/fitness room, athletic trainers' room, A.D. Office, two locker rooms, two coaches offices, and the main gymnasium for basketball, volleyball, all school presentations and Mass.
Outside, the soccer field and track are also complete with outdoor viewing bleachers.
"Our dream of having a top quality, state of the art school for our students has been realized because our donors and supporters joined in making sure that our students are given every opportunity to achieve success during their high school years," Fr. von Behren added. "As a school that promotes students to be college ready with an outstanding experience in the work force, the completion of our campus allows us to offer the total high school experience for our deserving students."
Cristo Rey St. Viator is the first school the Viatorians have built in 50 years, but it still models the hallmarks of a Viatorian education. One look back to the dedication of their first high school — Saint Viator High School in Arlington Heights, IL, built in 1961 — confirms it.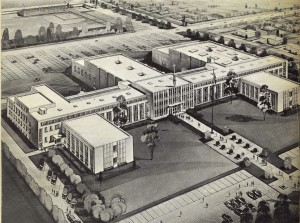 Included in the school's dedication booklet were nine objectives, ranging from faith formation to academics. Its last pillar was to "promote experiences in art, music and drama."
"We are so grateful to all those who supported us during the construction phase," Fr. von Behren said. "We have been blessed by God with such great partners and friends."