For a third straight summer, members of the Viatorian Community are tending a large vegetable garden on the grounds of the Province  Center — and dedicating all of their harvest to a nearby food pantry.
In all, there are 14 beds in the enclosed garden. They are tended by Viatorian associates, staff members, and even a Saint Viator High School student, who collectively have embraced the chance to respond to hunger in Chicago's Northwest suburbs.
Fr. Dan Hall, CSV, who coordinates the community garden, said last year his volunteers harvested more than 1,800 pounds of fresh produce, or more than 700 pounds than the previous year, for families that visit the local food pantry.
This year, Fr. Hall hopes to reach 2,000 pounds — or one ton — of fresh, nutritious food for local families.
"The people at the (Wheeling Township) food pantry are very appreciative of our giving," Fr. Hall said, "which is great."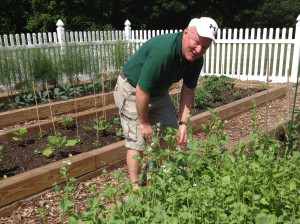 In years past, early harvests have yielded radishes, lettuce, beets, peppers, zuchinni, squash and eggplant, while the late summer led to hundreds of pounds of tomatoes.
Viatorian Associate Joan Sweeney also increased the number of hand-cut flowers last year that she donated as bouquets, bringing more than 160 to pantry families.
"We are looking forward to a very successful growing — and giving — summer," Fr. Hall adds. "It's all about feeding the hungry."