Early on during the pandemic, Fr. Richard Rinn, CSV, admitted he was stepping out of his comfort zone by filming messages — and Mass — at St. Viator Catholic Community in Las Vegas.
"I can hardly wait until I'm not staring into a camera," he quipped.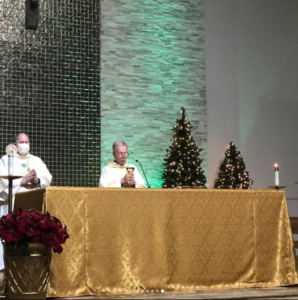 Well, he has come full circle this Christmas season, even embracing technology and its ability to share the gospel message with parishioners unable to fully participate in church.
With the help of staff members at St. Viator, including Associate Anthony Gugino who participates in music ministry, the parish was able to livestream six of its Christmas masses, which generated 1,400 views on the church's Facebook page.
"For our first go at live-streaming, I think it was a success," Anthony says.
Fellow Viatorians living and working in the Las Vegas region helped out with Masses, including Fr. Larry Lentz, Fr. Daniel Nolan, Fr. Rinn, and Fr. Thomas Von Behren. They combined to preside at eight Christmas liturgies in all, along with Associate Deacon Michael Underwood assisting and preaching at some of the Masses.
"Our liturgies were a prayerful and joyful experience in the midst of the pandemic," Anthony adds.
Fr. Rinn agreed, telling parishioners: "We are grateful for the technology that allows you to join us for Christmas Mass. Know that you are in our prayers this special season, and every day of the year."