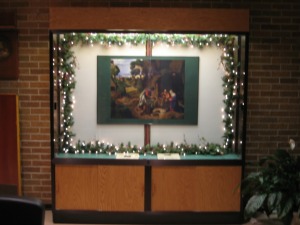 This year's Christmas display is a simple, yet beautiful, Nativity poster called "The Adoration of the Shepherds." The original 'oil on panel' is on view at the National Gallery of Art in Washington D.C. in the Samuel H. Kress Collection. The artist is Giorgione, born Giorgio Barbarelli da Castefranco in Castelfranco Veneto, Italy, c.1477/78 – 1510. It was painted between 1505-1510 during the High Renaissance Movement in Venice.
Framed in garland of evergreen, berries and white starlights, the simple setting provokes meditation on the quiet Navitity scene – an intimate atmosphere with Mary, Joseph and the shepherds surrounding the Christ child. Come, sit and enjoy the miracle –
now through the holiday season – in the Province Center lower lobby near the chapel.