The stirring image of red roses, set up in front of an image of Our Lady of Guadalupe, filled the Viatorian chapel with hope and joy on her feast day, just as the flowers did more than 450 years ago when the Mexican peasant, Juan Diego, brought them to the bishop as a sign of the Blessed Virgin's appearance.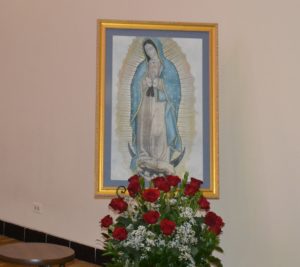 "Today, we celebrate with the church around the world, but especially here in the Americas, where Our Lady of Guadalupe is our patroness," said Bishop Christopher Glancy, CSV.
Seated in the first row were members of the Missionaries of the Sacred Heart of Jesus and Our Lady of Guadalupe, who have partnered with the Viatorians for more than 60 years. Consequently, their feast day is a day to reflect on their joint ministries.
At Mass, Bishop Glancy reflected on the timing of the day's gospel, about the visitation of Mary with Elizabeth, and how it is seen clearly in the story of Our Lady of Guadalupe.
"Mary continues her ministry of visiting the faithful throughout the world," he said. "Her message is one of hope — encouraging the people of God to follow the words of Christ."
For the celebration, Bishop Glancy wore a special chasuble for the celebration, highlighted with an image of Our Lady of Guadalupe in the center — just as Juan Diego's cloak bore her image in his final appearance before the bishop — and trimmed with roses around the cuffs of his sleeves.
The stole was created for the Marist priests whom the Missionaries of the Sacred Heart of Jesus and Our Lady of Guadalupe worked with in Washington D.C. When the sisters left that city, they sent the stole to their hermanas working with the Viatorians. Bishop Glancy was the first to wear it in 2017 and he continues to wear it every year for this holy occasion.