Digging post holes, pouring concrete, sorting clothes, feeding the homeless.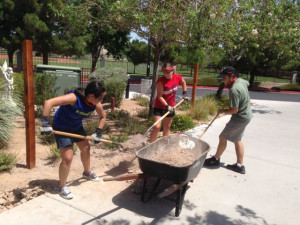 Those were just some of jobs the more than 100 teens in suburban Las Vegas tackled as part of Camp LIGHT, or Living in God's House Together, sponsored by the Teen Life ministry, and directors Steven and Amanda Dwyer, at St. Thomas More Catholic Community in Henderson, NV.
"Being with teens as they experience life, and celebrate God's incredible presence with them is a true experience of hope," said Fr. Robert Bolser, CSV, who also attended the camp.
Camp LIGHT is a mission trip, of sorts, only the teens stayed at their parish and worked in teams at a variety of different sites throughout Las Vegas and southern Nevada. Adults accompanied them to work sites, while others banded together to feed the hungry group. Not a small task!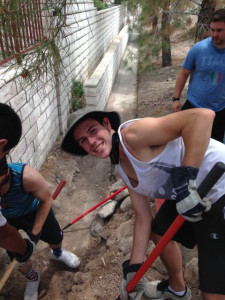 Some of their sites included: Catholic Charities Dining Hall, Meals on Wheels, two private senior homes, Catholic Worker, Project 150, Street Teens, Catholic Charities Adoption Services, Nevada Senior Services, Spread the Word and Three Square Food Bank.
They also worked on the parish grounds, including digging post holes and pouring concrete for a new set of outdoor stations of the cross that were donated by parishioners as well as the Women's Guild.
"Thank you, teens," says Fr. Patrick Render, CSV, pastor. "This retreat is a wonderful experience for our youth — and a marvelous example of youth ministry provided by adults within this community."